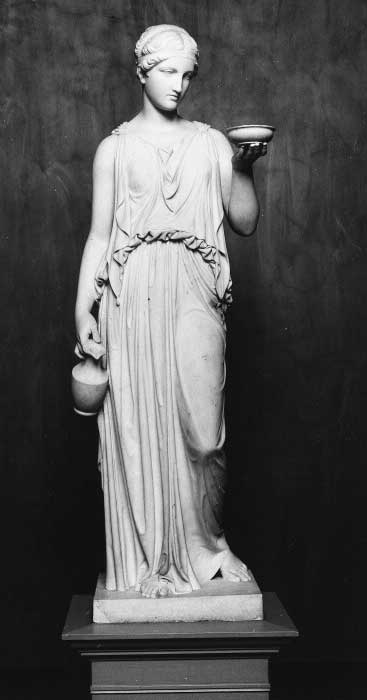 The figure was based on the 1806 sculpture by Berthel Thorvaldsen (1770- 1844). The daughter of Zeus and Hera, Hebe is the goddess of Youth and Spring proffers the cup of immortality at the table of the gods. Hebe stands on her plinth, raising the drinking bowl with her left hand, her gaze focusing on it. She holds the jug with a lowered right hand beside her thigh.
Copied in cast zinc by the J. L. Mott Company of New York, N. Y. the figure was featured in their 1910 catalog and offered several fountain bases.* Photo from the Mott catalog.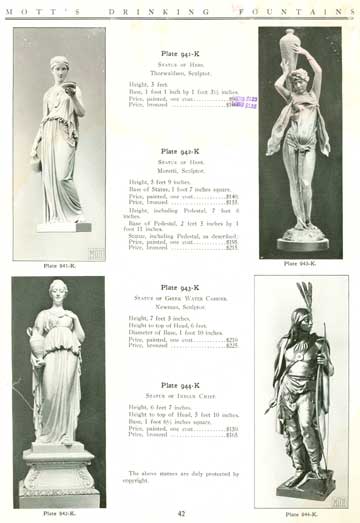 The City of Baton Rouge in February 2006 re-dedicated their Hebe which was re-cast in bronze, replacing the original zinc casting. In 1914, the local branch of the Woman's Christian Temperance Union chose the statue from a foundry catalog and donated it to the city. It is also one of the most popular outdoor sculptures in the city and offered drinking basins for animals.**
Copies cast by the Mott Foundry can be found all over the country and are often matched with a unique base with many featuring fountains, and perhaps the most well-known copy is the Cogswell Fountain in Tompkins Square Park, New York.
Sources:
* www.robinsoniron.com, Newsletter, Spring, 2006
** www.2theadovate.com, February 12, 2006